Yesterday I was asked by a vendor on how we print our checks. So I told him we use SQL-Ledger. The ironic part about the conversation was I had always thought of this company as fairly technology driven, and they actually had an inventory control system that may be 80 to 90% accurate. In fact, just the day before I was having a conversation with a friend, who's an implementation manager for an airport software company, on how I think most of the fashion industries were so "backward." I told him a lot of times we found ourselves in the warehouse of a designer helping to look for merchandises as he or she had no inventory control system in place that could tell where things were. Then this was no surprise to me as unless you have plenty of cash flows, my estimate was majority of the small size fashion companies had not the profit margin to invest in I.T. software or people. After all, I knew how "expensive" I could be, and just imagine when the software licensing starting to add up.
So if you find yourself reading this blog, and you are in the fashion industry looking for an apparel management system. I would suggest you to give SQL-Ledger a try, and soon enough your could be bulk printing checks in no time. SQL-Ledger is an open source software, and what's that mean is that you can download and use it free of charge. In addition, its source codes are open for customization as most businesses do have unique requirements. And should you are not keen on figuring things out on your own, there is always paid support and documentation.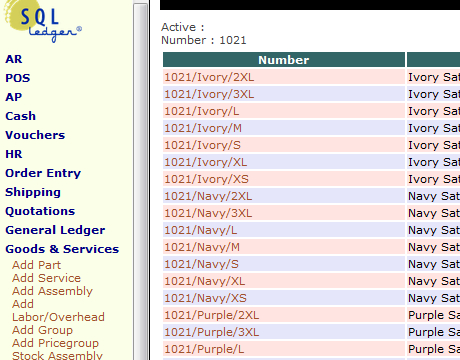 From our 10 years of using SQL-ledger in a fashion business, the only one must "customization" we did to make SQL-Ledger fashion friendly was to concatenate style no., color, and size attributes in the partnumber field using a delimiter. So these information can always be parse out later. Sure, if you are a relational database guru and you are probably thinking that this violates the normal forms but, hey, it was a quick fix and by now it had been proven. 🙂
So if you are interested in using SQL-Ledger, the best first step would be to try it on a test instance. And should help is needed in getting one set up, please free feel to ask. Also, it may be a good idea to join and read through the support forum to get some free help.